Once in a while I'd find something that bit more special- well this is a lot more than that. I'm speechless - Kohn's work is fracking amazing. His website is just an art gallery of beautiful artwork.
Ben introduced me to his work because they met him at PBX. And somebody is going to get a very special Kohn -job on their new NTs.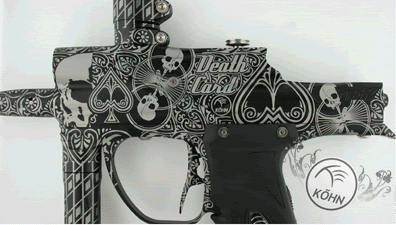 Some of the stock designs available.
I have a lot of respect for him because to maintain exclusivity and integrity - Kohn will not resell custom designs and he has retired a couple of the stock designs.
Anyway please go to his website and spend time particularly on the "customs" which are not for sale so we can only appreciate them on his website.
Hail to The King Baby
Kohn Sports